3月17日下午,内蒙古师范大学与澳大利亚西悉尼大学合作签字仪式在田家炳教育书院楼702会议室举行。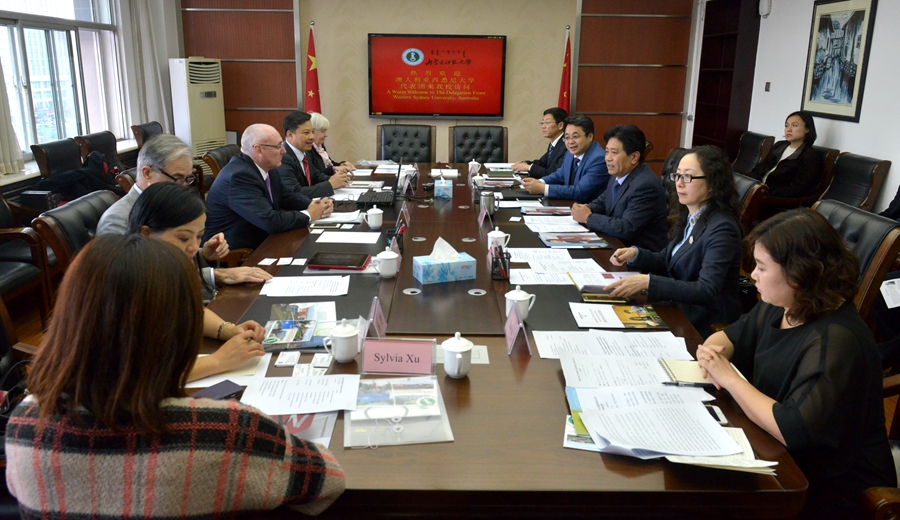 内蒙古师范大学校长云国宏与澳大利亚西悉尼大学校长葛班尼代表双方签署合作协议。
  根据协议,双方将开展口译、笔译和英语作为第二外语教学等专业的本科(2+2)、硕士(2+1、1+1)双学位联合培养项目,合作举办各类学术及科研活动,尤其是双方将依托内蒙古师范大学澳大利亚研究中心和悉尼大学澳大利亚中国艺术与文化研究中心开展相关领域的合作研究。
  签字仪式开始前,双方围绕拟合作项目进行了座谈交流。澳大利亚悉尼大学副校长蓝易振、人文与交流艺术学院院长 彼得•哈钦斯、澳中文化艺术学院院长梅卓琳、国际事务办公室区域经理徐颖与我校副校长张海峰及教育交流与合作处、文学院、新闻传播学院、外国语学院、美术学院、计算机科学技术学院、国家现代设计艺术学院主要负责同志等参加座谈会。
  据介绍,此前,内蒙古师范大学与澳大利亚在文化、教育、艺术等领域业已开展了多个项目的合作,与部分大学也建立了长期友好合作关系。此次合作,将进一步深化和扩大内蒙古师范大学与澳大利亚相关科研院所和高校的合作关系,对今年开展更加广泛而深入的合作具有十分重要的意义。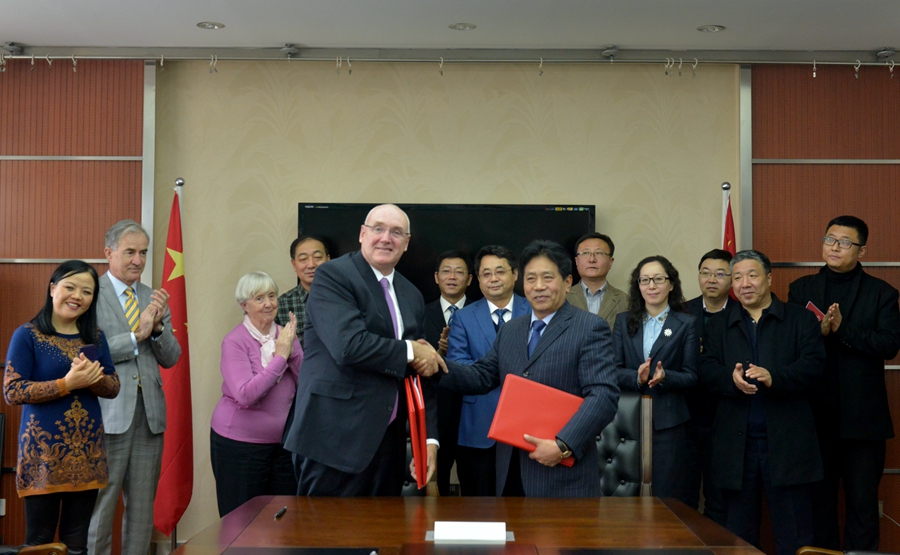 签字仪式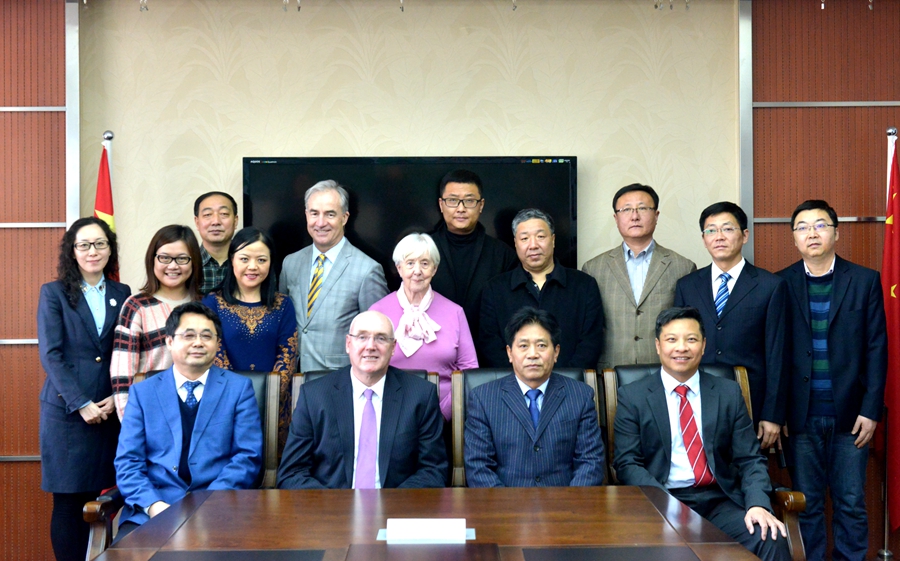 合影留念
---
内蒙古师范大学与澳大利亚部分高校、科研院所文化教育合作
大事记
2009年,与澳大利亚堪培拉大学合作;
2011年,与澳大利亚教育管理集团签署了共建中澳学院合作协议;
2012年与澳大利亚迪肯大学、斯威本科技大学、格里菲斯大学分别签署了合作框架协议;其中,与迪肯大学合作举办动画专业本科中外合作办学项目,与斯威本科技大学合作举办学前教育专科科中外合作办学项目。
2015年,内蒙古师范大学澳大利亚研究中心成立;
2016年,与澳大利亚中央昆士兰大学签署合作框架协议,并开展了一系列卓有成效的工作。

  Inner Mongolia Normal University (IMNU) and the University of Western Sydney (WSU) have signed a memorandum of understanding (MOU) on academic cooperation at a signing ceremony held at IMNU on March 17, in Hohhot, Inner Mongolia autonomous region.
  According to the MOU, the two universities will carry out a "2+2" dual cooperation program to train undergraduates studying English translation and interpreting. Students will study for two years at IMNU and another two years at WSU to complete their studies and obtain a bachelor's degree.
  Meanwhile, they will also develop cooperation programs for postgraduate students majoring in translation and interpreting, as well as TESOL (teaching English to speakers of other languages). This is the first time IMNU has cooperated with a foreign university to jointly train students studying foreign language majors. This will improve the training quality of the university's foreign language students, especially those studying English majors.
  Also, the two sides will conduct research and cooperation in other related sectors, including cooperation between IMNU's Australia Research Centre and WSU's Chinese Art and Cultural Research Institute; holding academic activities together, and arranging teachers to do research and lecture as part of exchange programs.
  At the signing ceremony, Professor Yun Guohong, president of IMNU delivered a speech and expressed his welcome to the delegation of WSU, including Barney Glover, the university's president.
  "IMNU has maintained a good relationship with colleges and institutions in many countries, including in places such as Australia, Mongolia and Russia," Yun said.
  "I hope we will work together to build a platform to jointly train teachers and students from both sides and conduct scientific research," he said.
  "I hope we will collaborate to make great contributions to education and deepen the friendship between our two countries," he added.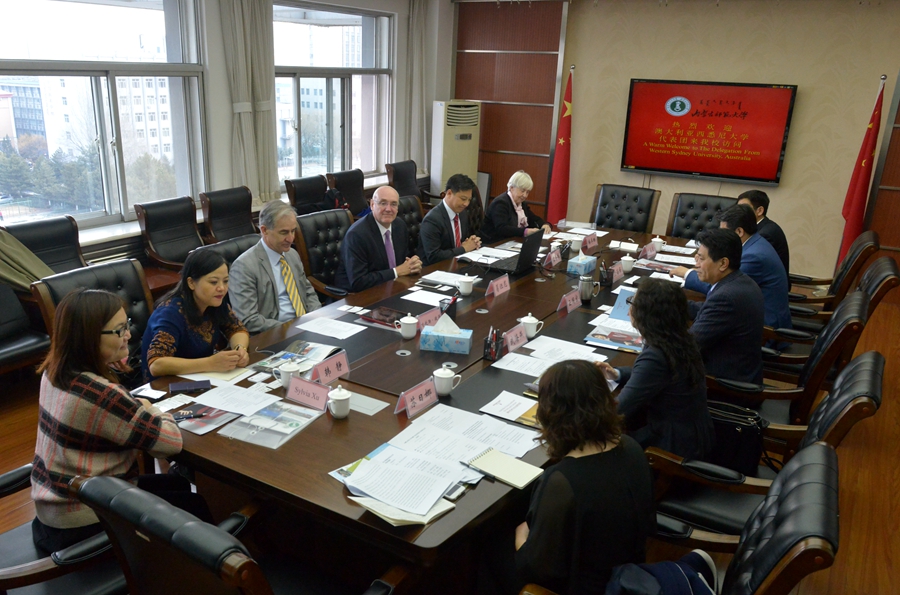 "IMNU is very highly-regarded and already has an existing relationship with some Australian universities," said Barney Glover, in an interview with China Daily.
  "This is an opportunity for us to have a connection with Inner Mongolia and we are glad to have this opportunity to establish a strong relationship with a very good university," said Glover.
  "We are very pleased to develop joint programs and collaborate with IMNU, particularly in areas like interpreting and translation, which is an area where we have great strengths. There's a good synergy between the two universities," he said.
  WSU, founded in 1989, is situated in the western part of Sydney, and consists of seven campuses and nine schools. It is one the biggest universities in Australia. The university's key specialties include business administration, real estate investment and translation.
  The most famous school in WSU is the School of Humanities and Communication Arts, which offers a series of translation majors. China's renowned Xi'an Jiaotong University has also maintained close links with WSU.
  There are currently 44,000 students studying at the university, of which 4,800 are international students from 130 different countries. In the past, WSU has cooperated with more than 50 universities and education institutions from more than 20 countries.
  For many years, WSU has offered translation and interpretation courses, including at undergraduate and postgraduate-level. The programs have been authorized by the Australia National Accreditation Authority for Translators and Interpreters (NAATI).
  It attaches great importance to a combination of translation theory and practice. The university often invites famous translation experts and scholars to give lectures to students to improve their translation abilities. Lectures often focus on topics such as conference interpretation, translation skills, literature translation and simultaneous translation.
  Courses provided by the university include linguistics, translation skills, legal translation, and interpretation. Nearly 80 percent of students pass the NAATI exams and hence, the university is a renowned center for training talented linguists.
阅读: 次